I just finished making my first Vietnamese Pesto and feel so excited about it, I am going to share the recipe with our internet community.
I always wanted to make a pesto here in Vietnam, but finding pine nuts and the original italian basil is not so easy, so I created a pesto with all Vietnamese ingredients. 
This pesto is packed with antioxidants as it is high in Vitamin E and C protecting your cells from free radicals.
Most people use Pesto traditionally with pasta, which is high in carbs and calories. Try swapping pasta with vegetables for a lower carb option. 
Try it on vegetables, as a dip for carrots, cucumbers or broccoli or as a spread on your Banh My. It goes also very well with your classic Mozzarella
Tomato
salad.
Vietnamese pesto is high in fat and calories, but also contains many nourishing ingredients. As with all good things in life, this vietnamese pesto is healthy, in moderation. 
And now let's take a look on how to make your Vietnamese Pesto.
Here is what you need for your Vietnamese Pesto: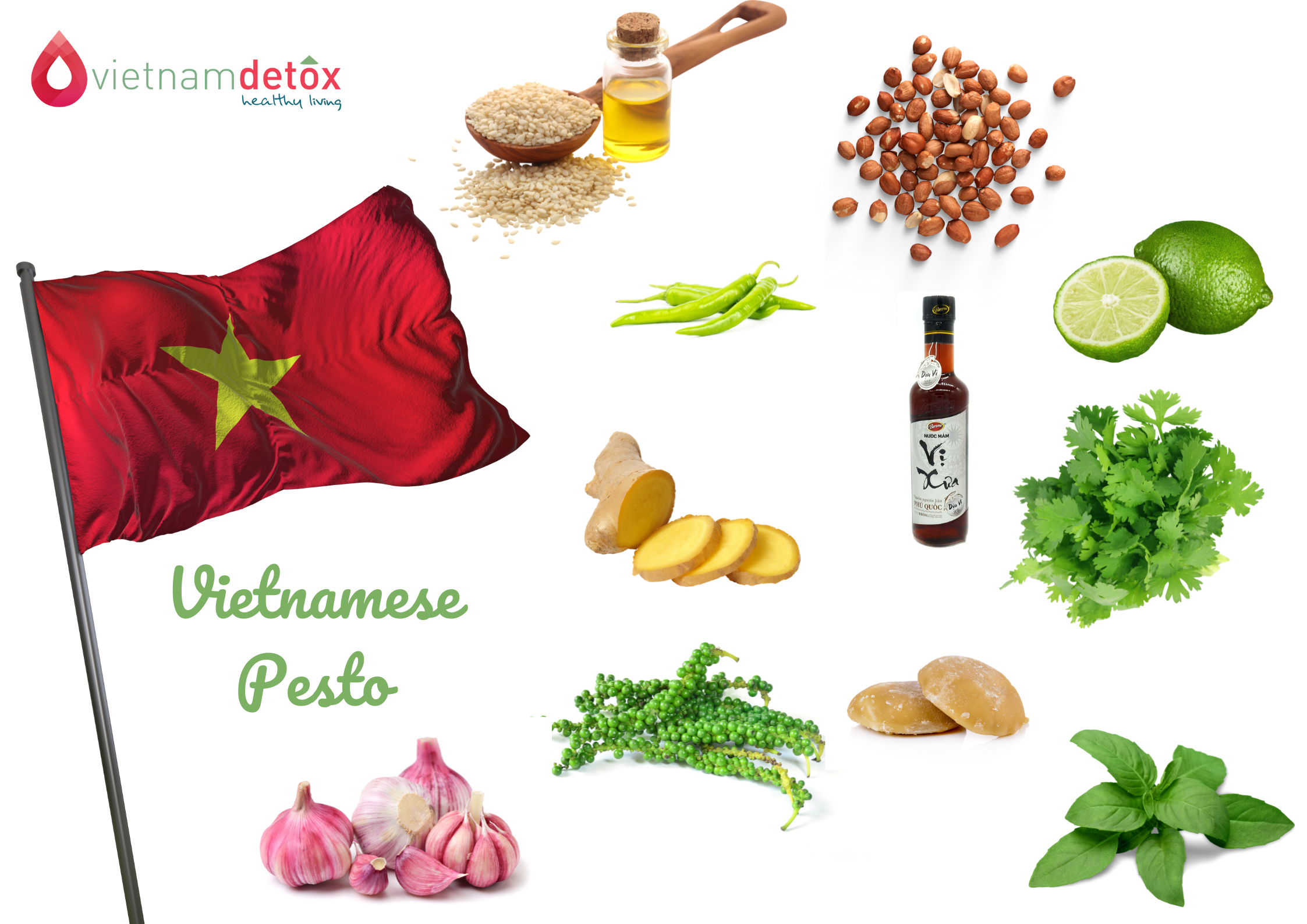 Vietnamese Pesto Ingredients:
| | |
| --- | --- |
| 100 gr | Raw or roasted unsalted peanuts |
| 150 ml | Sesame oil |
| 2 pieces | Lime |
| 1 handful  | Vietnamese basil leaves |
| 1 handful | Coriander leaves |
| 3 cloves | Garlic |
| 10 pieces | small red shallots |
| 10 gr | Palm sugar |
| 1 tablespoon  | Fish sauce |
| 1 thumb | Ginger |
| 5 gr | green peppercorn |
| 1 piece | green chili (remove seeds) |
Equipment:
a handheld food processor
Vietnamese Pesto Recipe:
Chop peanuts in food processor until they become a bit bigger than sand grain size

Remove from food processor

Chop basil, coriander, garlic, ginger, chili, shallots, green pepper and palm sugar

Add chopped peanuts to food processor

Add juice of two lemons, fish sauce and oil

Blend until pesto has a spreadable consistency

Store in glass container in fridge
Enjoy!!
For more information about antioxidants take a look at this post.